Different size rocks are great 2. You can make lots of little strawberry rocks and fill a basket, which is so cute.
How 2 Paint Juicy Strawberry Rock
Find a nice strawberry shaped rock to begin, clean all the dirt off your rock and let it dry.
I put a primer coat of white acrylic paint all over my rock; rocks absorb paint so the primer seems to help. If you only have red start there it won't hurt a thing.

The best primer for rock is latex Kilz, which bonds the surface of the stone and helps the paint stay longer as well.
Now, paint your rock red all over with 2 coats of paint and let that dry. Add your yellow, white, and black accents and then your strawberry leafs and stem. After all your paint dries cover with a clear gloss acrylic varnish.
These strawberries are best for inside decoration. Through experimenting, I have sprayed mine with Thompson's Outdoor Varnish; it was very oily going on and needed several days to dry. They lasted five or six years outside and got lost in the flower bed.
Outdoor Strawberry Rocks
To paint your Strawberry rock for Outdoors I have these suggestions.
Exterior Acrylics are paints that can withstand outdoor conditions. Like craft acrylics, they adhere to many surfaces. They are more resistant to both water and ultraviolet light. This makes them the acrylic of choice for architectural murals, outdoor signs, and many faux finishing techniques.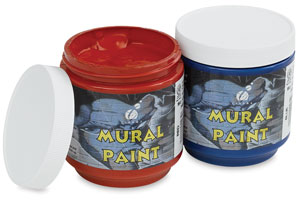 Chroma Acrylic Mural Paint is a multi-purpose acrylic paint is water-resistant, moisture-resistant, and lightfast, making it ideal for outdoor art. Available in a variety of bright, mixable, opaque colors, it's ready to use, non-toxic, and cleans up with soap and water.
DecoArt Patio paint is another excellent choice which has a built in sealer for exterior paint, the paint was made for concrete, I think.
For large outdoor pieces you could use exterior latex house paint and this would hold. Krylon makes an easy to spray on sealer that would help extend the life of your strawberry in both gloss and stain finishes.