Artline Drawing Pen Review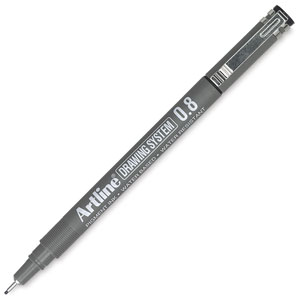 In this video I am will be using our set of Artline Drawing Pens to create a pen drawing of the photograph I took of our Dog Kik.
Artline Drawing Pens offer a super-thin line opaque ink that is perfect for methodological applications such as drafting, illustrating, and graphic design.
I worked with several different mm. pens to render my drawing and noticed a consistent drawing width with no bleed area. I am very pleased with my set of Artline Drawing pens.
I do recommend Artline pens 2 YOU
I also like using these pens for my stencil drawings, the metal-reinforced collar nib stands up to ruler and template work without causing any nib damage.
We try to catch Artline on sale at Blick Art and we have watched them on Amazon.com. Here are convenient links to both trusted online shops. Of course Blick specializes in Art.
They have a wonderful water-resistant quality that is absolutely fade proof, and xylene-free.
Set of 3 — Includes 0.1 mm, 0.3 mm, and 0.5 mm writing widths.
Set of 6 — Includes 0.1 mm, 0.2 mm, 0.3 mm, 0.4 mm, 0.5 mm, and 0.8 mm writing widths.
"Artline's range of pens and markers are renowned for their quality and reliability and have been distributed in Australia for more than 40 years!"
© whimsypapermache.com